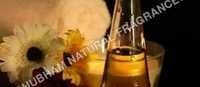 Sugand mantri oil
Product Description
Description- We Shubham Natural fragrances offers Natural Essential Oils. Sugandh mantri essential oils are known for high purity and have a mesmerizing aroma that makes them widely used in aromatherapy applications.
Botanical Name- Gandhi Roots
Extraction Method- Steam Distillation
Color & Odor- Light Yellow,The odour is refreshing pleasant spicy & typical note of Linalool.
Uses- Sugandh Mantri Oil is used for aromatherapy, in perfumery compounds, tobacco industries, attar, hina etc.