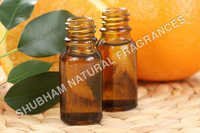 Orange Oil
Product Description
Description- We Shubham Natural fragrances offers Natural Essential Oils. Orange Oil is obtained from the fruit part of the Orange tree. Various procedures such as those of steam distillation have been utilized in the operations pertaining to the extraction of Orange Oil.
Botanical Name- Citrus aurantium
Extraction Method- steam distillation
Color & Odor- Yellowy orange to dark orange with Fruit/peel scent.
Uses- Orange oil can be used effectively on immune system, as well as for colds & flu as well as to eliminate toxins from the body.