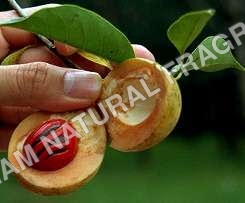 Nutmeg Oil
Product Code : 176
Product Description
Description- We Shubham Natural fragrances offers Natural Essential Oils. The essential oil is obtained from the seeds of the tree Myristica fragrances. It is an evergreen tree indigenous to the Banda Islands in the Moluccas of Indonesia. Two important spices are derived from the fruit, nutmeg and mace. Mace is the dried reticulated 'aril' of the fruit and nutmeg is the dried seed kernel of the fruit.
Botanical Name- Myristica fragrans
Extraction Method- Steam Distillation
Color & Odor- pale yellow clear liquid with spicy odor.
Uses- Nutmeg oil is used heavily in Perfumery and pharmaceutical industries.