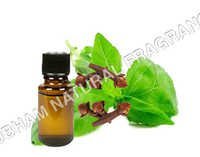 Clove Bud Oil
Product Description
Description- We Shubham Natural fragrances offers Natural Essential Oils. Our clove bud essential oil is very much accepted by the customers due to their exclusive quality. We extract clove bud oil by the use of high standard steam distillation technique.
Botanical Name- Eugenia caryophyllata
Extraction Method- Steam Distillation
Color & Odor- colorless to pale yellow clear liquid with warm clove sweet fruity woody odor.
Uses- Clove Bud Oil is used in pharmaceuticals, flavors, perfumery compounds and aromatherapy